One To One International (DBA Maasai School 121 ) is registered with the IRS as a 501(c)(3) organization.  All donations are tax deductible in the USA.                Directors and board members are volunteers. All donations go toward the school project in Tanzania.
They asked. We said yes.
Our Maasai friends invited us into their boma, served us a cup of milk, and asked us to help them build a school for their youth. Since that day, this village, with us alongside, has been  working to make this dream a reality. Join us!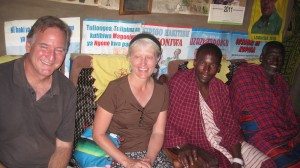 In the video below,  in-country adviser, Angelika Wohlenberg, talks about the life of Maasai women and girls and the need for education. Angelika has worked with the Maasai since 1983.
See more on Facebook!   Maasai School 121
Interested in seeing more?  Try one of these youtube videos below:
Introduction to Maasai School 121 Video